Parallel Networks

Water as a Productive and Connective Blue Network
New York | 2011
Design Team: Ali Fard & Ghazal Jafari
New York's relationship with water has been essential to its historical development and growth. Traditionally, water for New York has been a source of connectivity and largescale economic and industrial development, which have slowly transformed the once diverse water's edge into industrial hardscapes. The partial migration of industrial operations from the waterfront to the outskirts of New York's populated region has been motivating the conversion of the water's edge to a new extended urban space. This spatio-economic transformation, coupled with an awareness of environmental complexities, is offering a new potential for re-imagining a resilient, yet productive, landscape capable of accommodating a diverse range of urban programming.
The five boroughs of New York are separated by an expansive body of water, consisting of the Upper Bay, the rivers, and canals. This blue network is home to overlapping ecologies that are often understood and analyzed in isolation from each other. Ecologies of shipping and service industries, marine transportation, wild life habitat, urban recreation, and cultural activities, are constitutive elements of New York's blue network and act as a liquid connective tissue. The operations and activities of these networked ecologies shape and transforms the spatial characteristic of New York's wet landscape, or what is referred to here as the Sixth borough.
By analyzing the overlapping ecologies of the sixth borough, this project attempts to highlight a series of opportunities for synergetic operation of these networks. Parallel Networks proposes a process of spatial production, which not only allows for the co-habitation of these networks, but also leverages extra economic, ecological and cultural values. This strategy introduces a new understanding of these overlapping networks: the operations and spatial transformations of these networks are highly interconnected and inherently inseparable.
Unlike typical urban infrastructural development, this project is envisioned as a flexible landscape that is grown, shaped and defined over time as a result of the operation of an expandable and mobile cellular network. Hence, rather than fixing the infrastructure to the ground and in time, the project explores the means by which a flexible system can stimulate and intervene in the existing natural processes of the wet landscape, to gradually grow a flexible infrastructure as a platform for symbiotic activities of the current networks.
Ecologies of the blue network
New York's growing shipping industry along with its related businesses and training facilities are in need of space close to water and industrial areas. These include mooring ducks, structures for servicing and maintenance, parking areas for barges and tugboats, educational centers and other facilities. In addition, the distribution of goods and materials to the regional warehouses and retail centers is currently performed mainly by trucks, which aside from obvious environmental pollution, has proven to be a less economic and less efficient mode of transportation when compared to water-based shipping modes. Once a major producer of oyster, New York's water bodies will be saturated with marine traffic soon. Furthermore, this water body is surrounded by hard-edged landfills and has lost its flexibility in dealing with water fluxes and flood events. As a result, the sixth borough is not protected against the continuous rising sea levels and is prone to seasonal and storm-related flooding. Possible inundation, coupled with increasing water pollution, threatens the remainder of wildlife habitat in the region.On the other hand, New York's population is set to reach 8.7 million by 2020, and 9.1 million by 2030. Similar to many other North American cities, there has been a gradual shift in New York's waterfront character. The industries, which have long occupied the water's edge, are migrating and the leftover industrial brown fields are being designed to host NYC's growth. New York's waters can once again be publicly activated to act not only as a connector but also as a destination for a variety of activities, such as energy production, recreation, and education among others. Through this transformation, water will be imagined as a new public space, able to deal with flux and change, and easily adaptable to future uses.
Parallel networks
New York City, like many other metropolitan areas, is founded in a context that is environmentally and socially in constant flux. Therefore, the Blue Network needs to take into account not only what is necessary for the region's economic livelihood, but also the environmental factors and socio-cultural transformation of the region. This is possible through coupling or bundling of transportation infrastructure with water-based urban programming for production, recreation, living, protection, research, and re-habitation. As this is an expansive infrastructural project, a systematic thinking, instead of an all-encompassing super-structural remedy, can effectively enhance the performative qualities of the network. In this proposal this systematic thinking is manifested through a cellular infrastructure. This cellular system allows for incremental implementation by various public and private entities, while allowing for easy maintenance, since each cell can be removed and repaired without jeopardizing the overall health of the network. The cells of the Blue Network are translated to floating pods of various scales and functions, able to accumulate and disband, and to be moved from one location to another. This system promotes a need-based growth over time, allowing for opportunities to experiment, while keeping the integrity of the network intact. Furthermore, pods are designed to forge symbiotic relationships with the context they are located in.
Two test sites are introduced for a more detailed examination of this design strategy.
NY Gaia
, located in Upper New York Bay, is a productive landmark, a center for clean energy production, and an operational node for marine transportation activities around NY. The Gaia will feed other cleantech industries with energy, through wind power and bio-fuel harvested from large-scale algae cultivation. In addition, much needed maintenance and training facilities for marine transportation will be located adjacent to reef islands, which are artificial islands that grow over time.
The performance of pods in this area can be summarized in the following order: Collection pods collect CO2 from tunnels of New York City. The collected CO2 is brought to reef Islands to nourish the algae pods. Algae pods are relocated to potential cleantech industries along the shore for energy production. The algae is also used as a fertilizer in nursery pods that hold and accelerate brine shrimp and oyster production. Brine shrimp pods are relocated to Gowanus Canal to nourish the potential aquatic farming. Oyster shells or spat is dumped in Upper NY Bay to feed and build natural islands that are both a flood defense system and a marine habitat stimulator. Islands form around wind turbines, which are located in the middle of the bay to free the urban context of their noise pollution.
Bronx Blue Terminal (BBT)
, located at the mouth of Bronx River will provide the Bronx with a ferry terminal. In addition to being a transit hub, BBT will act as a recreation, research and education node within the blue network, building on the educational programs already underway in the area. Habitat preservation and regeneration is another part of the mandate for BBT.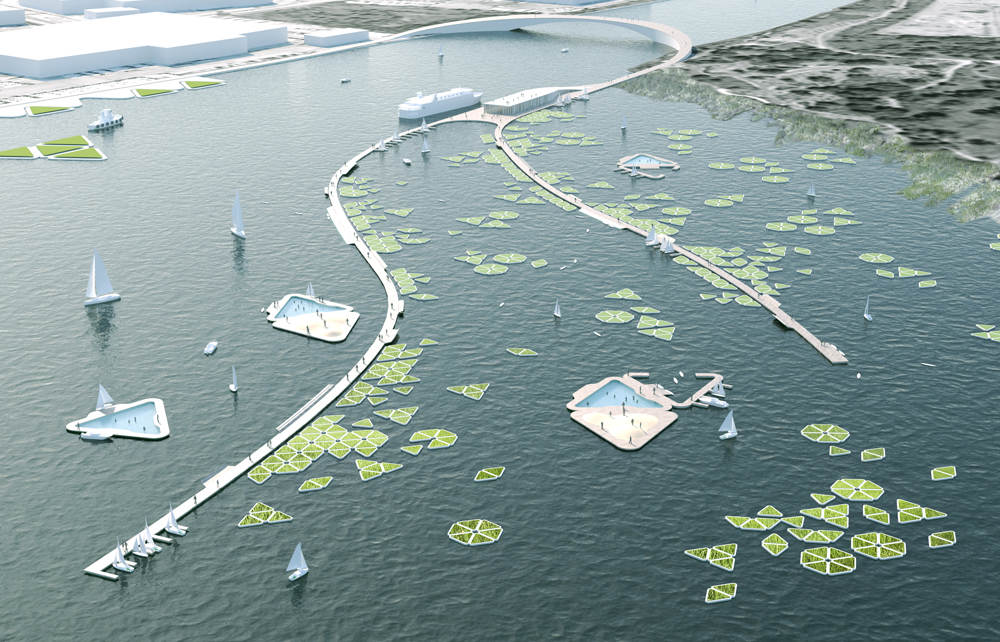 The performance of pods in this area can be summarized in the following order: Floating wetland pods recreate a natural habitat that has been replaced by landfills along the Soundview Park shore in the past. Planted with remediating plants, this floating park can also remediate the water of metals and other toxins. This complex creates a potent field of research for the study of wetland ecosystems, hydrology, vegetation and native wildlife species. The ferry terminal extends out of Soundview Park, creating two paths of recreation with activities including fishing, observation decks, kayaking, sailboat mooring areas, bike parking, beaches and seating. Floating recreation pods, accessible by kayaks and boats, complement these recreation paths as "off-shore" recreational nodes.
The symbiotic operations of these parallel networks, mediated through a cellular infrastructural system, act as a catalyst for the development of a blue network between the five New York boroughs. A network which is as much a performative waterscape as it is a connective urban tissue.